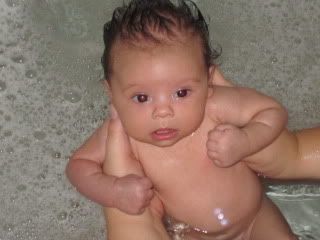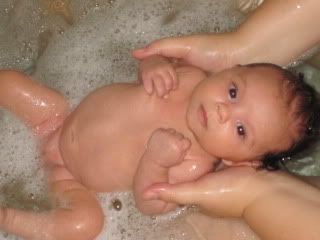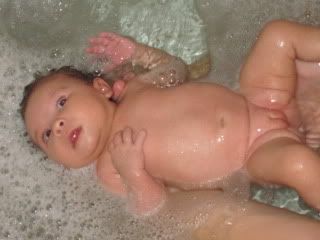 We LOOOVE to take baths every night together! It's part of our night time routine. Leah loves to swim around but not a fan of washing her hair so much. I only do that a few times a week for that reason.
The past 4 nights, she slept 8, 8.5, 9.5 and 12 hours! Last night was 12 hours with a dream feed around 6am. She fell asleep very early last night because she didn't nap hardly at all yesterday.. too much fun with her daddy while I was at school! I couldn't believe she slept so long! I nursed her around 6 and she was pretty much sleeping so Leo put her back to bed and she slept another almost 4 hours.
As far as school goes.. I'm nervous about the workload. I have the same professor for both classes and she asked about the baby (knew I was pregnant when I had her a year ago). Everyone was excited but she expressed that even though it's 2 classes, it would be a "decent amount of work". One class requires a 60 page paper!!
I got offered the job of my dreams last week.. I worked in the Kindergarten program at a school here for a semester and loved it. One of the teachers just left (not surprised...) and the principal asked about me!!! I already know all of the K teachers so it would've been perfect for my first year but I gotta graduate first and get that stupid paper! I was then offered to sub but not realistic with me in classes and with a newborn at home. I'm not ready to work yet, I was just flattered that I was thought of! One day!!